F.A.Q
Get to know what's coming and read the FAQs for answers to lots of common questions.
Create ph360 Profile
Create your ph360 profile or request to add "Children" if you have a current membership.
Scientific Assessment
Upload your child/ren's video, measurements and questionnaire for scientific assessment of their HealthType.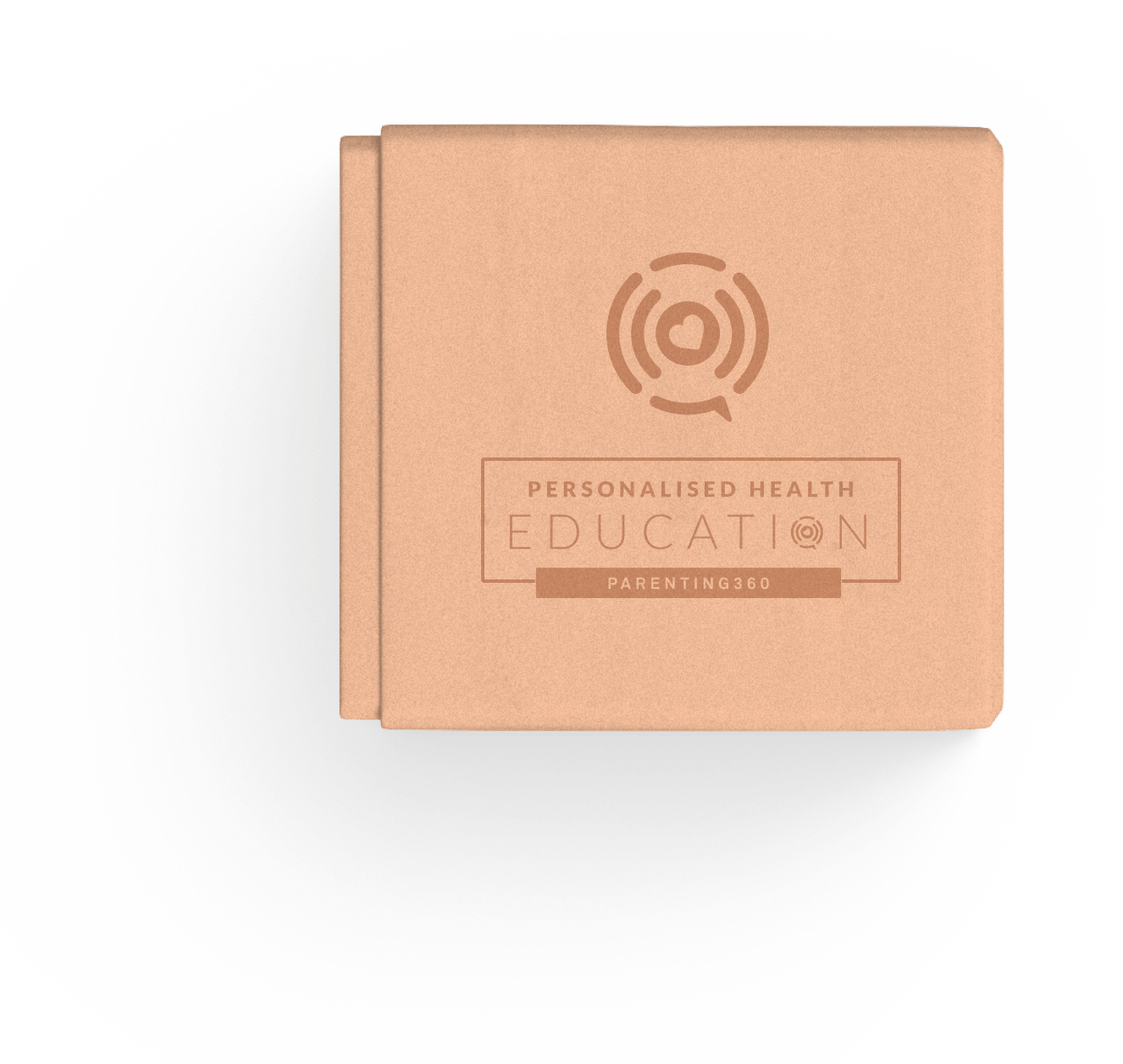 Step 1: What's in the box?
The personalized learning program includes:
30 day ph360 membership (for new members only): access to your personalized health profile and Shae app
Child/ren Assessments by ph360 Science Team
Personalized Learning Parent Booklet
HealthTypes: A Beginner's Guide
Frequently Asked Questions
Is my HealthType determined by my weight?
Your weight is one of the many elements that is involved with designating your accurate HealthType. Your ph360 HealthType is based on complex ratios involving 17 measurements of your body. This gives us a clear, objective reading and an accurate HealthType.
Is the idea of the personalized learning course that my whole family needs to get on board and do ph360?
It is great if your whole family is keen to get on board with the personalized guidance of ph360 and you are encouraged to regularly share the information with your family, however it is still powerful and effective if they don't. As a parent there are many changes we can make to our families and households based upon the principles of ph360 without the necessity of everyone having a ph360 profile or actively following their HealthType recommendations.
Often the most powerful parts of supporting your child in a ph360 personalized learning program is the understanding it brings to the whole household through the HealthType lens.
Why do I need to upload a video of my child for this program?
The personalized learning program requires the ph360 Science Team to assess your child's bone structure (size of feet, hands, jaw, forehead, knees, ankles, calf muscles, shoulder width etc) via video to determine their HealthType and provide you and their educator with the profile needed to undertake the program. Assessments may be done in person depending on the location of the program and proximity of members of the ph360 Science Team however the video is required where this is not possible. Only one 5-10 second video of each child is required for the assessment. Please see the example video provided for what is required to avoid having to re-submit your video.
I already have a ph360 account, do I need to start a new one?
No. If you already have a ph360 account all you need to do is send your username and the email address connected to your account to [email protected] and we will arrange for the 'Children' function to be added to your current profile.
What if I don't resonate with my HealthType?
The most accurate way of finding out your HealthType is from completing your ph360 profile which involves taking accurate measurements and answering the questionnaire. If you haven't resonated with your HealthType from the free HealthType test then complete your ph360 profile and check by clicking in the top right hand corner to see what HealthType is given.
We are all unique and have elements of other HealthTypes in us. Often, we have a predominant or primary HealthType and then a secondary HealthType. Furthermore, throughout our life we may swing about 30 degrees around the HealthType circle. At different times of life we may exhibit elements of a particular HealthType more strongly than at other times.
The most important thing to remember is that your ph360 profile offers you guidance on the input your body requires for the most optimal health at this point in time. It is a dynamic platform and as you update your measurements, your profile's guidance may change.
I have a Lifetime ph360 account but I haven't used it in a long time. How do I reactivate it?
Simply login or if you have troubles with your password, please email [email protected] for assistance.
What will I need to prepare?
Your registration with ph360 and the registration/s of your child/ren are the only required preparation.
Will mine and my child/ren's data be safe and secure?
ph360 recognizes the importance of privacy and respects your desire to store and access your information in a private and secure manner. We are committed to providing you a secure, user-controlled environment for the use of our Services. Please refer to the ph360 Privacy Policy to learn more about how we handle your Personal Information here.
How much will it cost for my family to participate in the ph360 personalized learning program?
The cost of the personalized learning program is covered by your school.
Do the children get a ph360 profile or just the parents?
ph360 membership and personal profiles are currently only available for adults. The global ph360 Science and Medical teams have been working for many years to prepare this platform to be able to provide children with unique and personalized health profiles in the future. During the program, information will be tailored to children's HealthType.
How long will the registration process take?
We recommend you allow 30 minutes to complete your registration for your ph360 profile and 20 minutes per child to upload the video, measurements and questionnaire.
How can I connect with other parents who are also interested in personalized education, learning and parenting?
Please join us in the Parenting360 Facebook Group where you can meet like-minded parents, grandparents and caregivers from around the world who are discovering all about personalizing the way they support their family members here.
Do both parents need to set up a ph360 profile and enter our children's data?
No. You only need to enter your child/ren's data onto one parent's profile.
Where can I find out more about ph360, the Science behind it and other ph360 programs?
How do I get my questions answered?
If you have a question that you think other parents will benefit from knowing the answer to, please post it in the Parenting360 Facebook Group here. If you have questions about the classroom learning environment, please contact your class educator directly. If you questions to do with your HealthType or personal ph360 profile, please contact us via [email protected]
Step 2: Create your ph360 profile
If you do not already have a ph360 profile, create your personalized ph360 profile by completing your health assessment:
2Allow 30 minutes to create your profile following the instructions
4Download the Shae mobile app and turn on your notifications
If you already have a ph360 account all you need to do is send your username and the email address connected to your account to [email protected] and we will arrange for the 'Children' function to be added to your current profile.
Step 3: Assess your child's HealthType
How to upload your child/ren's information:
1Click on the blue circle in the top right of your ph360 profile
3Click on 'Children' from the menu on left side
4Choose 'Add a Child' in blue on the right side
5Complete the required measurements and questionnaire about your child
6
Upload your child's video as per instructional video below. It is required as MP4 or AVI (you can convert videos via Wondershare or the like). 
A child's HealthType is determined by a child's bone structure and body ratios involving the forehead, jaw, neck, shoulder width, hands, hips, feet, ankles, calf muscles etc. It is therefore essential that your 5-10 second video is in accordance with the following requirements for the Science Team to complete HealthType assessments. Please watch the example video first. 
5-10 second video of each child turning really slowly
Child looking at camera, whole body in footage, arms by their side
No shoes, socks, hats, scarfs
Wearing fitted clothes eg. singlet and bike shorts (not baggy/loose)
7
Read and agree to the Terms & Conditions to proceed
8
If you have multiple children, please choose 'Add a Child' again and complete the above process for each child.
9
Your child's HealthType assessment results will be available in your ph360 app online within 14 days. You will find it in the same 'Children' section in 'My Account' where you uploaded your information. You will receive a confirmation email once the assessment is complete.
10
Please use the Parenting360 Facebook Group for communications if you have questions regarding this process.
11
Congratulations on completing all the required steps!!
I am passionate about Personalized Learning and Education!
If you would like to find out more and get involved in Personalized Learning and Education in your city please contact us on [email protected] as we would love to hear from you.
Get in Touch
Be sure to join the Facebook group for all news & updates and to find support from other parents and caregivers who are also wanting to personalize the way they support their family.
Please contact us on [email protected] for other assistance.
Introduction to Personalized Health
A fun, friendly way to start the discussion around making health personal.